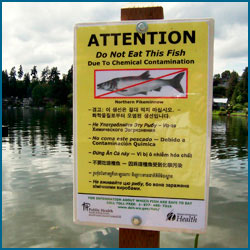 12 April 2017. Today, the Inspector General of the U.S. EPA released a report on the guidance and leadership provided by the agency to protect vulnerable populations against contaminated fish. In short, EPA's efforts are not found to be as effective as they should be, and EPA needs to update its risk assessment for methylmercury. These findings may not be surprising, but they need to be seen in a wider perspective.
In January this year, EPA jointly with the FDA issued an updated advisory on mercury-contaminated fish. All edible species are now placed in three groups, those that provide great nutrition and minimal risks, those that should be limited, and a third group that should be avoided. Luckily for avid fish consumers, the "good" fish group represents close to 90% of the market, and it includes canned (light) tuna, which is a dominant source of mercury exposure in the general population in the US and likely in many other countries. It is hard to see how this advisory is going to protect against hazardous mercury exposures.
The approach in the EU is no better. The European Commission decides on permissible levels in predatory fish like tuna and swordfish (and recently increased the acceptable level from 1 to 2 ppm) and then leaves it to the member states to decide on how to advise the consumers. The approaches are very different, to say the least, across the continent.
And then again, who reads the advisories that may be hidden away at some government web site? As a Californian colleague recently said in an email: "I can almost guarantee this "advisory" will never be seen by the majority of people who consume commercial fish. Will the FDA be asking the obstetricians, family practitioners, primary care practitioners to hand out brochures? Will they have this at the point of sale?" In a recent survey carried out by the Environmental Working Group, more than 30% of the women who were eating 2-3 fish servings per week exceeded the EPA's exposure limit (the so-called Reference Dose). Some populations in Europe, East Asia, and elsewhere are highly exposed to mercury from eating the "wrong" kinds of fish. Given that the developing brain is particularly vulnerable, it would be crucial especially to protect the pregnant women. How can this be done?
A study just released shows that offering a hair-mercury analysis to pregnant women when they come for the first ultrasound can have a substantial effect. In connection with routine nutritional advice, a hair-mercury test was offered for free to newly pregnant women, and a second hair sample was requested three months later. At the recruitment about one in five had a mercury concentration that was too high, but three months later, only 8% exceeded the limit. Average hair-mercury concentrations decreased by 21% during this period, although the total seafood intake remained at the same level. These changes happened in direct association with the dietary advice to avoid large predatory fish (including tuna) and instead choose safe species of fish and shellfish. We note that a hair-mercury analysis can be done for about $10, and even after adding staff and other expenses, the costs of such intervention is minuscule as compared with the numbers of IQs saved. Wouldn't this be a lot better than well-meaning web sites?
The prevention of mercury exposure is even more important, as recent research suggests that the EPA safe limit is much too high. Of considerable concern is that common genetic differences may cause mercury to become substantially more toxic to developing brains. Since EPA's decision on the safe limit happened 15 years ago, could we not expect the agency to revise the limit downwards? The Inspectior General asked the same question, and here is what EPA answered: "We recognize that the publication of epidemiological studies on mercury health effects has added information to the scientific literature. However, the existence of new literature does not automatically trigger a need for a reassessment."
We can do better than that.
Social Share