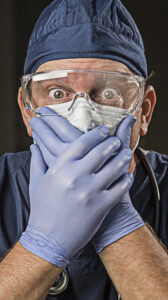 27 April 2015. General anesthesia in small children may cause damage to brain development, authors of an article in JAMA fear. Similar concerns have previously been raised at this site, but the concerns highlighted now emphasize some interesting parallels and differences from industrial chemicals in general.
Now, see if the concerns raised by the three physicians ring any bells: They recommend "large, high-quality observational studies that include neuropsychiatric testing" to estimate the effects "associated with various types and durations of anesthesia." Fair enough, that sounds reasonable, but the classification of the children's exposure is much easier in regard to general anesthesia than environmental chemical exposures.
To be sure about the possible effects, the authors also recommend randomized clinical trials to compare different anesthesia regimens. However, for environmental chemicals, such study designs where children are deliberately exposed to suspected neurotoxicants would not be ethically acceptable. It is truly ironic that appropriate human subjects concerns will prevent studies normally deemed necessary to justify protection against the very exposures to these chemicals, whether old or new.
But here comes a crucial stumbling block: "Despite the compelling clinical and public health rationale for such studies, there is no obvious sponsor for them." The three physicians rule out FDA (lack of resources), National Institutes of Health (no mandate), Congress (no patient advocacy or disease-oriented foundations to lobby), or the manufacturers themselves (the drugs are generic, and requiring manufacturers to support studies costing millions of dollars, would likely force the manufacturers to stop producing the agents).
In regard to industrial chemicals in general, the situation is parallel, if not worse – there is no obvious sponsor for systematic neurotoxicity research. Most embarrassing, the U.S. Toxic Substances Control Act of 1976, which is seriously outdated, does not require any such testing of chemicals. In the EU, the situation is better in regard to chemicals control, but there is no general requirement for neurotoxicity testing (whether anesthetics or other chemicals).
Thus, there is no easy solution at hand right now. But perhaps it is good news that the problem is extended to anesthetic agents that are essential for health care. The need for action is urgent. How do we best alert the decision-makers, including those who seem to be anesthetized?
Social Share