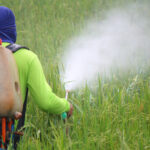 15 June 2015. A new report links a commonly used class of pesticides to chemical brain drain. The French birth cohort Pelagie measured five break-down products of pyrethroid insecticides in the morning urine obtained from 287 children at age 6 years. The children also underwent neuropsychological testing. After adjustment for other pesticides and relevant cofactors, the researchers found that the children's urine concentrations of two major metabolites (3-PBA and cis-DBCA) concentrations were associated with poorer verbal comprehension and working memory scores on the WISC intelligence test. However, the mothers' pesticide concentrations in urine collected during pregnancy did not show consistent associations with the children's test results. The two metabolites originate from deltamethrin (cis-DBCA) and from pyrethroid insecticides in general.
The pyrethroids are toxic to the nervous system of insects and are commonly used as household and garden pesticides, in pet sprays and mosquito repellants on textiles. As they also have common agricultural uses, their occur as food contaminants. Children may be exposed also from house dust and lice shampoos. Breakdown of these substances is augmented by sunlight, and in the indoor environment, pyrethroids may therefore linger in house dust for a long time. Exposures are widespread, possibly globally, whether from household uses or food contamination. Thus, urine concentrations similar to those reported from France are found in many countries, e,g. Caribbian countries. So we may not be able to escape, even if we travel far away. Incidentally, commercial airlines are frequently sprayed with pyrethroids to kill unwanted insects, and airline personnel have an increased exposure to these compounds.
The results from the French study are in agreement with findings in a study from Canada that exposure to these substances seem to trigger ADHD-related behaviors. Two weeks ago, US data from the cross-sectional NHANES study showed an association between increasing pyrethroid pesticide exposure and ADHD. The notion that pyrethroids can cause developmental neurotoxicity is also supported by substantial experimental evidence.
The new French data need to be interpreted in light of the incomplete assessment of exposure based on analyses of a single urine sample from each child and each mother. This approach is somewhat problematic, as exposures may vary from day to day, and these pesticides are cleared from the body fairly rapidly. In addition, the maternal urines had stayed in the freezer for six years, and some decay of the substances cannot be ruled out. Would these potential problems invalidate the findings? Not likely. In general such imprecision would result in an underestimation of the adverse effects associated with the exposure. So these pesticides may be worse than we think.
Social Share